I bought several of these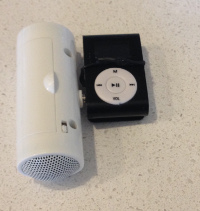 to use to make the layout more interesting. I found these tiny MP3 players and speakers on eBay. About $6 for the set. I had micro SD cards on hand, but if you had to buy those you'd need to add that to the cost.

They are pretty tiny–the MP3 players are about 1 x 1/2 x 1/2″ and the speakers are just big enough to hold 2 AAA batteries. Sound quality is OK–and plenty good enough for my purposes. I have one of these in my sawmill playing sawmill sounds, one set up for my church (chiming the hours, singing hymns, wedding bells tolling) one for my watermill.
Links:
https://danzbb.com/trains/mp3s/1-weddingbells-and-crowd-and-auf-wiedersehen.mp3
https://danzbb.com/trains/mp3s/5-Organ-prelude.mp3
https://danzbb.com/trains/mp3s/7-seven.mp3
https://danzbb.com/trains/mp3s/sawmill.mp3
https://danzbb.com/trains/mp3s/watermill.mp3